Flair Event bar staff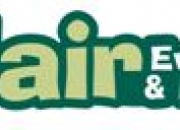 Data of ad
Published
09 of March

/ 15:20hs
Details of ads
Seeking wonderful bar staff for our great Summer events...

Register your interest NOW on the Flair Event Staffing Registration page (look out for other events you may be interested in, in your area)!
https://eventstaffing.co.uk/login
Stand by for information about interviews (to be held in Southampton, Portsmouth and London) but get yourself into the recruitment loop!

• ISLE OF WIGHT FESTIVAL!!
Are you loyal, reliable and hard working but can have fun at the same time?
Come and work for Flair on our 10th time staffing this iconic event!
Wanted: Super staff to work on the bar with excellent customer service experience - shine out for us during this huge event!
The location may be on an island but you won't have to sail yourself there!
To help our lovely staff members out we are providing:
• Free return transport from Southampton and subsidised coach travel from London
• Flair only camping & shower block alongside the main arena (yeah baby, no long walks)
• Staff meals plus discounted food van within your camping area - open late
• Seated staff welfare area
• Discounted staff beers
• The highly sort after collectable free staff t-shirt
• Hourly rate PLUS legally entitled holiday pay taking it to - £5.77 - £7.28 per hour
• Minimum 6 hrs per day; shifts between 6 – 12hrs up for grabs
• 3 or 4 day contracts on offer
• Wages paid the following Friday – that's ONLY a 5 working day wait (some of you may not be even home by then!)


• VICTORIOUS FESTIVAL!!
(29-30 Aug 15)
Location: Southsea Seafront, Clarence Esplanade, Portsmouth
Amazing bar staff required!
Register your interest NOW on the Flair Event Staffing Registration page (look out for other events you may be interested in, in you area)!
https://eventstaffing.co.uk/login
Wages: £5.77 - £10.00 per hour depending on role - all paid the following Friday!!
*these rates included your legally entitled holiday pay per hour
Wages paid every Friday so no waiting with us!
2 days work, shifts 12noon - 11.00pm
All we ask for in return is for you to bring your awesome skills (and a tent) and be prepared to work a festival bar like you own it!

You will be expected to perform in a mass service festival bar environment or bespoke full bar service area (depending on experience). You will be required to be presentable for each working day and demonstrate high standards of team ethics. Customer service experience is required to apply for these positions, full bar training will be given.

Jump on our facebook page to view past photos of our events.
Follow us on Twitter: @FlairEventStaff

• BRIGHTON PRIDE!!
(31 Jul - 2 Aug 15)
Address: Preston Park
Fantastic Bar Staff Wanted - Explosive day jam packed!
Wages: £5.77 - £7.28 ph depending on age - paid within 5 days!
This includes your leagally entitled holiday pay at 12.7% per hour

The Brighton Pride Festival is a glorious, life-affirming spectacular in the city's beautiful Preston Park. A day filled with world-class entertainment, community and celebrations, it is the UK's biggest, best and most flamboyant of Pride events.


• SOUTHAMPTON HALF MARATHON
Dates: 26 Apr 15
Location: Southampton
Address: Hoglands Park, Southampton
Jobs: Race Crew & Marshals
We are pleased to announce the Flair Event Staffing will be sending a large team of Race Crew to work at this fantastic annual event on Sunday April 26th 2015.
We are looking for people who just ooze enthusiasm and who can shout & cheer with the best of them, as well as being mindful of people's health & safety.
If you can get to Hoglands park for (usually very early) on a Sunday morning and would love to be a part of this event then select it now and we will be in touch soon!