Expert IT Support Specialists in London - Your Virtual Colleague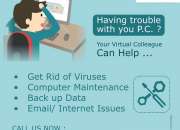 Data of ad
Published
30 of August

/ 12:00hs
Details of ads
Your Virtual Colleague can help you with literally anything and everything giving you the freedom and flexibility of time to work on things that are on the top of your priority list.

We provide you with the best of the best Virtual Colleagues who work tirelessly to make your business a success. All our VC's are dedicated, smart and highly trained professionals who are always willing to help.

What we do?

1. Marketing Support
2. Admin Support
3. Sales Support
4. IT, Design & Development
5. Event Management
6. Travel
7. Human Resources
8. Personal

Visit : http://yourvirtualcolleague.com/

Call Us on 020 800 46 800.

Our Portfolio : http://yourvirtualcolleague.com/portfolio/

We'd love to help you with your current or next project.